DÉFINIR L'IDENTITÉ DE LA RECHERCHE-CRÉATION
État des lieux et au-delà
Grazia Giacco, John Didier, Sabine Chatelain, Frédéric Verry
EME éditions
CREArTe
Autour de la recherche-création et des questions liées à l'enseignement des arts, cet ouvrage réunit plusieurs contributions issues de deux rencontres internationales entre chercheuses, chercheurs, artistes et pédagogues (Académie d'été, Lausanne 2017 et Académie d'hiver, Strasbourg 2018) qui témoignent de l'effervescence actuelle autour de ce paradigme de connaissance qui met la création au centre du discours.
Grazia Giacco est musicologue et enseignante-chercheuse à l'Université de Strasbourg (France). John Didier est professeur ordinaire à la Haute école pédagogique du canton de Vaud (HEP Vaud, Suisse). Sabine Chatelain est professeure associée à la Haute école pédagogique du canton de Vaud (HEP Vaud, Suisse). Fréderic Verry est agrégé en Arts visuels à l'Université de Strasbourg.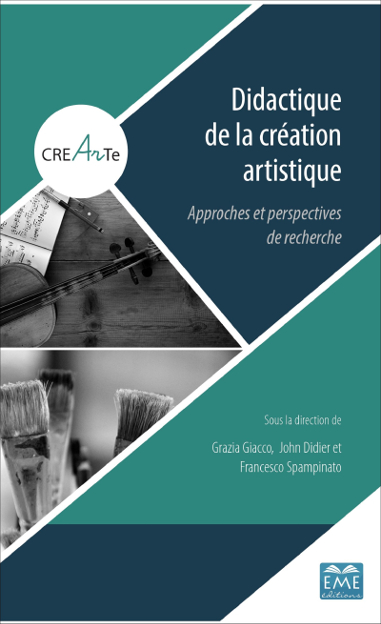 DIDACTIQUE DE LA CRÉATION ARTISTIQUE
Approches et perspectives de recherche
Grazia Giacco, John Didier, Francesco Spampinato
EME éditions
CREArTe
Whether it is research or teaching, artistic creation challenges both theorists and practitioners. Discussed according to various approaches, the creative process reveals multiple research perspectives. Thanks to the contributions of several researchers, teachers, artists and mediators of cultural institutions, this book contributes to a paradigm shift, where the relationship between creators-teachers-students-researchers now draws new networks and new perspectives.
Buy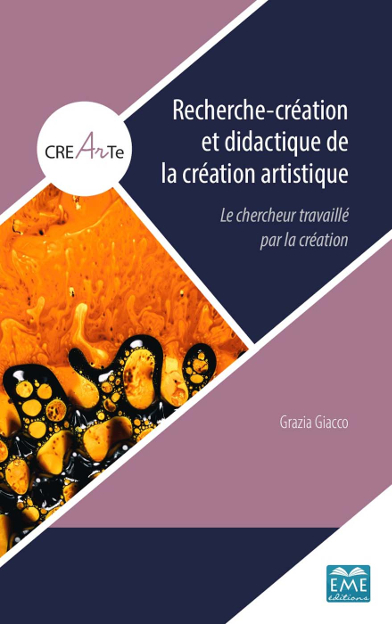 RECHERCHE-CRÉATION ET DIDACTIQUE DE LA CRÉATION ARTISTIQUE
Le chercheur travaillé par la création
Grazia Giacco
EME éditions
CREArTe
Conceived as a form that intersects theoretical parts and introspective sections, this essay addresses several themes: the nature of the creative process, the dynamics of creation, the complex interaction between research, creation and teaching, practices related to art research and the teaching of artistic creation, the role of the teacher-researcher with regard to these new epistemological and methodological issues.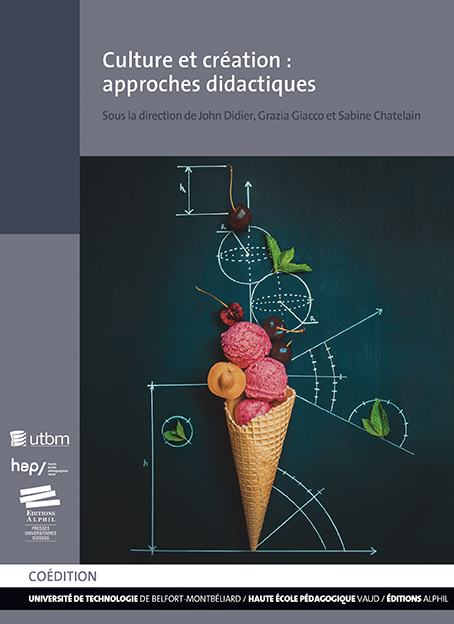 CULTURE ET CRÉATION : APPROCHES DIDACTIQUES
Sous la direction de John Didier, Grazia Giacco et Sabine Chatelain
Raphaël Brunner, Sabine Chatelain, Séverine Desponds, Thierry Dias, John Didier, Grazia Giacco, Nicole Goetschi Danesi, Anja Küttel, Moira Laffranchini Ngoenha, Vincent Marbacher, Yves Renaud, Yvan Schneider, Tilo Steireif
Pôle éditorial de l'UTBM
This collective work contributes to the current reflection focused on the epistemological and didactic scope of school subjects. Adopt an author's posture, favor didactic approaches that put creation practices back at the center: these acts call for a new relationship to knowledge and create new traces in the cultural space. At the discretion of the various chapters, the authors investigate an understanding of culture as an ability to create and structure knowledge in its depth. Also, it is necessary to ask our researchers, didacticians, artists, on these issues that emerge as soon as we let dialogue between culture and creation in the field of education and training and in today's society.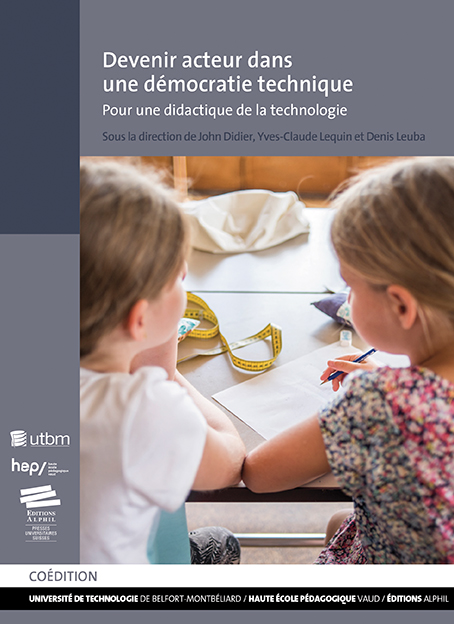 DEVENIR ACTEUR DANS UNE DEMOCRATIE TECHNIQUE

Pour une didactique de la technologie
Myriam Bouverat, Daniel Curnier, John Didier, Philippe Hertig, Andreas Käser, Pierre Lamard, Yves-Claude Lequin, Denis Leuba, Clément Mabi, Alain Pache, Florence Quinche, Jérôme Valluy, Mireille Ventura

Pôle éditorial de l'UTBM
Enriching the understanding of techniques within democracy requires repositioning the role and function of technology education within our training institutions. This book Becoming an actor in a technical democracy For a didactic of technology offers a multidisciplinary look at what contributes to the construction of a democracy where citizens will participate in fundamental technical choices. Mainly from an epistemological and didactic point of view.
To this end, the work induces a paradigm shift in the construction of technical knowledge: more than on the use of techniques (existing or new), it focuses on the design of these, as an essential phase for training of the future citizen. To teach technology in order to train citizen actors in the decisions that guide their technical systems, we favor a didactic of technology centered on the activity of designing or re-designing objects and technical systems.